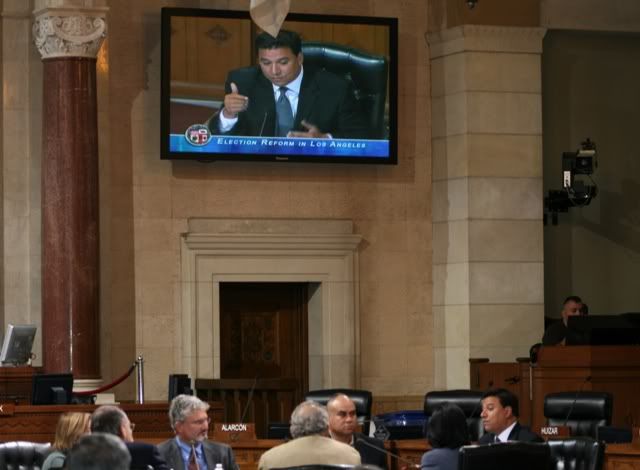 Councilmember Huizar moderated his second government reform panel recently in Council Chambers. A
panel of experts
discussed election reform in hopes of increasing voter turnout in City of Los Angeles' elections while exploring ways to save the city money in the process. Channel 35 will reply the program later today @ 5:30 p.m. and again on 6/28 @ 12:30 p.m. and 7/1 @ 6 p.m. You can also
click here
to watch it online.
The panel included
Kathay Feng
with California Common Cause,
Antonio Gonzalez
with Southwest Voter and the Willie C. Velasquez Institute,
David Holtzman
with the League of Women Voters Los Angeles,
Ron Kaye
with OurLA, political pundit and Sonnenschein managing partner
Darry Sragow
, and
Holly Wolcott
with the Office of the City Clerk. The discussion centered on possible solutions to voter fatigue and apathy in increasingly expensive elections.
Councilmember Huizar's last panel in March focused on
Campaign Finance Reform
and he is currently working on a package of campaign and election reform proposals. A third forum focusing on the City's Charter will soon be announced for September.